Meet Susan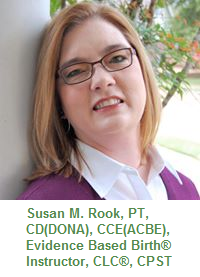 I remember daydreaming about helping women have babies when I was a little girl, before I knew anything about the process of birth. But even back then, I did understand babies and families are special. Years later, when I was having my own children, I discovered all these amazing people: childbirth educators, lactation peer counselors, and IBCLC's. Oh my! I became a childbirth educator myself and then a lactation peer counselor.
I began my formal journey toward becoming a doula by taking a weekend training workshop from Rae Davies at The Birth Company in the spring 2017. During that training with Rae, I was introduced to Evidence Based Birth® and was accepted into the Evidence Based Birth® Instructor program that fall. Whew! That was quite a year!! By 2019, I'd met all the requirements to officially become a DONA International certified birth doula. My continuing education includes the one day When Survivors Give Birth workshop taught by two of DONA International's founders, Penny Simkin, PT, CCE, CD(DONA), and Phyllis Klaus, MFT, LMSW; that workshop has been incredibly helpful to my work supporting expectant parents. I also earned my CLC® from the Academy of Lactation Policy and Practice in 2020 to better provide education and counseling for families choosing to breastfeed.
That makes for a lot of alphabet soup after my name, but what's really important to me is being part of the support network that gets families off to a strong start whether it's the first baby or the newest addition. When I'm not supporting clients or teaching childbirth classes, I spend my time volunteering at car seat check up events because I'm also a CPST who enjoys helping parents keep their kids safe while traveling; participating as an active member of the Memphis Birth Collective; crafting with paper, yarn, my Cricut and cross stitch; or watching movies at home with my family while holding a cat in my lap.