A message from Susan Rook, your Evidence Based Birth® Instructor: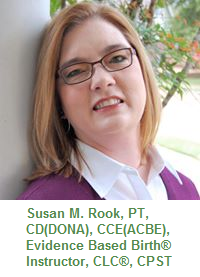 You may have heard people say that having a baby changes everything…well, it did for me. Not only did I become a mother, but I found my calling. As I heard the birth stories of my new mom friends, I realized how frustrated some of them had been navigating through the maternity care system and how fortunate I was to have had a provider who consistently and respectfully ensured my husband and I had the information we needed to make decisions about my care. And so, I began teaching childbirth classes always keeping in mind the mission of providing the education expectant parents need to confidently approach their baby's birth day. That mission is the reason I became an Evidence Based Birth® Instructor and the first childbirth educator in the MidSouth trained to mentor you through the Evidence Based Birth® Childbirth Class, a current and comprehensive course on evidence based care, comfort measures and advocacy designed to prepare today's parents for the journey through pregnancy to that indescribable first moment holding their newborn and into the early weeks at home.
Listen to what some of my first students of the Evidence Based Birth® Childbirth Class have had to say:
"This class is very informative and empowering and helps you have ideas for how to overcome discomfort." ~Morgan
"Go for it! As a new almost dad, I found the information helpful and comforting. Knowledge is power." ~Brad
"It has helped me feel very informed and prepared for labor and postpartum." ~Kirsten
"DO IT! For something as important as the birth of your child, becoming as informed as possible will only help with truly enjoying the experience." ~Shaw
Take the Evidence Based Birth® Childbirth Class!
Get mentored by your own Evidence Based Birth® Instructor!

Learn about evidence based care, comfort measures, and advocacy.

Get prepared, get answers, get empowered!
Your Childbirth Class includes:
Mentorship from Susan Rook, experienced EBB Instructor.

Two in-person classes to practice your labor skills.

Five weeks of online videos for you and your partner to watch together.

Four weekly Zoom discussions with your EBB Instructor and peers.

BONUS: Breastfeeding and newborn care videos.

BONUS: Four video chats with your Instructor!

BONUS: Earn points throughout the class to redeem for prizes at the end!
Ready to Get Empowered? Register for Your Class Now!
Don't pass up on this opportunity!
Your birth experience is too valuable for you to avoid educating yourself beforehand.

Sadly, I've spoken with many parents who have major regrets about how they went into birth without preparation—and the health consequences they suffered as a result.

Take action, get educated, and find the answers and mentorship you need today!

Spots in each class are limited (6 couples per class), do not wait to schedule.

Click "Buy Now" to register for a class near you.
Frequently Asked Questions
Q: Can't I just educate myself online using search engines and videos?
A: A lot of that info you find online? It's bad or inaccurate! The benefit of the Evidence Based Birth® Childbirth Class is that we curate all of the best, evidence-based information and get you and your partner engaged in the learning process.
Q: Shouldn't I just let the doctors and nurses tell me what to do?
A: Routine practices in some hospitals are still about 15 to 20 years behind the research, and there is a lot of pressure to conform to traditions that might not be in your best interests. We will teach you and your partner how to be your own advocate—a skill you can use for the rest of your life!
Q: My friends told me that taking a childbirth class is a waste of time.
A: There are a lot of poor-quality classes out there that have given childbirth education a bad reputation. The founder of Evidence Based Birth®, Rebecca Dekker, PhD, RN, APRN, knows how to make classes exciting for young adults. The end result is a class that is motivating and SO much fun to participate in. You will learn more than you could ever imagine!
Q: What will I actually learn in this class that could be of use to me?
A: Our students are most excited to learn about the entire toolkit of comfort measures for labor. We cover pain management techniques like massage, water immersion, upright birthing positions, acupressure, music therapy, and deep breathing, just to name a few. When labor starts, you and your partner will be ready!
It's time to register for your Evidence Based Birth® Childbirth Class!
Remember: There are only SIX SPOTS available in each class! First-time parents and experienced parents welcome!
Refund policy: Tickets are non-refundable, but may be transferred to future class in the case of an illness or family emergency.  The ticket holder must contact Susan to reschedule.
Evidence Based Birth® Instructors are independent contractors and distributors of the Evidence Based Birth® Childbirth Class and are not employees of Evidence Based Birth®. You can find our terms and conditions for the class here: https://parents.evidencebasedbirth.com/parent-membership-terms/